Creative Drawings 6
Creative DRAWings® 6 is not like other embroidery software on the market. It is designed to do the "thinking", allowing your creative ideas to flow free. That means you don't have to worry about the technical issues in creating your embroidery design. And with all of the added features in Version 6, the possibilities are unlimited.
New Features
Clipart library
Insert Clipart, Search clipart by tags, filter designs by tags, Different views in the clipart library dialog for easier selection, Add – Delete tags on every clipart, Rename clipart name and add any design to clipart
Implement inertia / kinetic scrolling
Interactive smooth scrolling (Zoom in – Zoom out) to the design that gives a more flowing feeling to the working space.
Sequence manager – show objects
Every time you hover over a specific object of the sequence manager, the respective object is focused on the screen by moving the view port of the software over the object.
Selection options were added in the right click menu
Selection of objects became easier by adding the most used selection option in the right click menu.
Array
Create Fill Array with any shape
Create Outline Array with any shape
Create Fill Array from Clipart design
Array Adjustments

Ability to choose between various fills, like Rectangle, Circular, Contour and Single line
Add offset to Array fill/outline
Adjust horizontal and Vertical spacing between shapes manually through Node editor or by providing specific values at Object properties toolbar. Rotate array shapes by adjusting the respective handle manually through Node editor or by providing specific values at Object properties toolbar.
Slant array shapes and create beautiful patterns by adjusting the respective handle manually through Node editor or by providing specific values at Object properties toolbar. The slant value changes the position of the successive array lines
Ability to Keep the array shape inside its container by trimming the parts that overflow
Separate array fill object to its sub objects
Ability to edit the Array fill container through node editor (Edit outline option)
Palette order
Ability to edit the palette order and which palettes will be shown through the respective dialog of "Tools>Options" window
File formats
Support for .AI format up to CS5
Support for .EPS format up to CS5 without text objects(if the text objects are converted to curves we open them fine)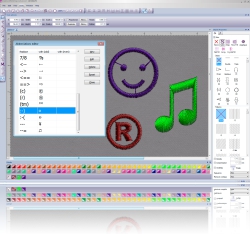 Text
Insert Abbreviation inside your text designs. Create New, Edit existing, Delete existing, reset to default options are available.
In general you can use combinations of special characters and numbers that will be replaced with a specific symbol you have assigned in the Abbreviation's editor (e.g. --> to be replaced with →)
Smart text
In order to use the abbreviations you have to have the Smart text checkbox checked.
Guideline editor
Ability to edit the guideline's position with precise values
Ability to specify the Y and X axis for Horizontal and Vertical guidelines respectively.
Ability to specify the Angle for diagonal guidelines
Ability to Lock and hide guidelines
Monochrome photo-stitch

You have the ability to either create CMYK (Cyan, Magenta, Yellow, Black) photo-stitch designs or Monochrome in any color you prefer.
Export to VP3 file format
Ability to export the designs to VP3 file Format
Magic Wand designing tool
With the Magic Wand tool you can create shapes that consists of the intersection of two or more other shapes.
Improved Macro selection dialog
Inside the Macro dialog you can now view the limits of the selected Macro. This is very helpful for making the correct selection.
We now support Open Type Fonts (.otf)
We expanded the range of the supported Font types and now we also support Open Type Fonts (.otf).
Rotation in rectangular array
Ability to rotate the Rectangular arrays you are creating easily by dragging the respective control handle while you are creating it. This allows you to position the array in the right angle and produce the design you prefer.
Circular array Contour ability with or without Equal steps
When you apply a circular array on a specific object the "Contour steps" and the "Equal steps" options appear on the "Tool options" toolbar. With the "Contour steps" you can specify the contour steps of the circular array you are creating by echoing the shapes of the array and with the "Equal steps" enabled you can multiply the objects of the contoured circles so to appear that they are increasing gradually.
Advanced embroidery properties
Adjust Density
Adjust Compensation
Change Underlay
Change Length
Mirror style
Import .PLT vector files
We can import .PLT vector files and convert them to embroidery
New Quilt styles
You can use any of the new Quilt styles and create beautiful designs for Quilting.
Old Favorite features
Creative DRAWings® 6 includes added features such as Autoborder, Rectangular and Circular Array and Adding New Objects as Clones. Plus all the features already loved by Creative Drawings® users such as the Automatic Parameter Adjustment for chosen fabric, Text Editing and Automatic appliqué option.
Auto-Border tool with Satin Serial and Running Stitch types.
Create an "echo quilting" effect around your embroidery design. Choose a satin, running, double or triple stitch to emphasize your embroidery.
YouTube Video — Auto-Border Tool
Rectangular Array tool.
Fill your hoop with embroidery for making wonderful fabric. Or create a continuous border for skirts, towels, sheets and more.
Circular Array tool.
Form a grouping of designs, Wingdings®, letters or shapes to create something completely new with this great tool. Use the Kaleidoscope rotation that gives multiple reflections for special designs.
YouTube Video — Circular Array Tool
Slow redraw — Embroidery machine simulation.
See how your design will stitch before you stitch out on your embroidery machine – save time and thread.
Export designs to Quilt formats.
If you quilt with an automated quilter, mid or long arm machine, Creative DRAWings® will create files for your machine in many file formats (.qdata, .dxf, .emf, .wmf, .plt, .hqf, .txt, .qli.)
Add new objects as clones.
Add "clones" of your objects. Adjust the shape of one of your objects while in edit shape nodes, your "clones" will change too!
YouTube Video — Add New Objects as Clones
Improved embroidery image Export the 3D realistic embroidery preview as an embroidery-look image and use it for textile printing or for promoting your work.
Use Creative DRAWings® with printable fabrics to make beautiful embroidery look transfers or your own special fabric for appliqués or quilt blocks.
Net fill embroidery
Make your own lace designs.
Open multiple tabs with designs to easily copy and paste designs to compose new embroideries.
Create embroidery designs by capturing images from your webcam.
Trace the design for an abstract look or open as a cross stitch, 4 color photo stitch or use as a backdrop.
Create original embroidery designs within seconds from vector or bitmap images (Load .cmx, .eps, .emf, .svg, .AI, .bmp, .dib, .rle, .jpg, .jpeg, .jpe, .jfif, .gif, .wmf, .tif, .tiff, .png, .ico).
Edit existing embroidery designs*.
Add text using TrueType® fonts on your computer. Adjust each letter or the group of letters with path placement
Modify stitch types – change from satin to fill or fill to satin plus try the piping, appliqué, net, or cross stitch options. Let Creative DRAWings® automatically generate the proper stitches
Set Stitch direction for any area in your design – improve your design texture.
Easily add an outline to any object.
Automatic Parameter adjustment for the type of fabric you choose to stitch on.

Automatic appliqué option – choose an object, click appliqué and let Creative DRAWings® do the rest.
Advanced object and node editing with Bezier curves
Align your objects with one of 11 different Shape Alignment options.
Advanced stitch editing with Wings' modular®- included with Creative DRAWings®.
3000 Embroidery Designs included!
*Load the following formats: Experience.,nsg; Milestone .mls; Tajima .dst, .dsz, .dsb .tbf; SWF .sst; Sauer .SAS; Pfaff .ksm, .pcs, .pcm, .vip; Singer .xxx; Happy .tap; Bernina/ Melco expanded .exp; Brother/Babylock/Bernina .pec, .pes; Husqvarna Viking .hus, .vip, .shv; Janome .jef, .jef+, .sew; Juki .M3; Toyota .10O; Bernina .art; QuiltCAD .hqf; PC Quilter .txt; Statler Stitcher .qli.